6 of our Cheeses to be visited on the board, 6 crackers on your plate (not provided). Go round the board, visit the cheese, and eat the crackers. The first to clear their plate wins! But watch out for those pesky cat squares as victory is never just one throw away.
The cheeses included in this Christmas Crackerdash Bundle will be:
Bath Soft Cheese (120g) Supreme Champion 2019 Artisan Cheese Awards - The flavour is mushroomy and creamy and, when young, has a hint of lemons. Towards the end of its life, it develops a garlicky taste.
Wyfe of Bath (100g) Supreme Champion 2019 International Cheese Awards - Succulent, nutty, and creamy. Similar to a Gouda in texture, it is matured for 4-6 months.
Bath Blue (100g) Supreme Champion 2014 World Cheese Awards - A classic blue veined cheese - it has been likened to Stilton.
Merry Wyfe (100g) UK Champion 2019 International Cheese Awards - Made by washing the pressed curds of a Wyfe of Bath in cider every other day for four weeks. The pasteurized cider is made on the farm by Graham Padfield, with apples he has grown. A rich, slightly sweet, fruity long-lasting flavour. It's called Merry Wyfe because she is a little tipsy after her cider bath.
Extra Mature Wyfe of Bath (100g) Mature version of our 2019 Supreme Champion - This is a Wyfe of Bath that has matured for between 12 and 18 months. Stronger in taste but still retaining its creamy consistency and an additional fudge-like aftertaste.
Kelston Park (100g) The Kelston Park Cheese is a white mould ripened cheese which is round in shape.
Regular price
Sale price
£60.00
Unit price
per
Sale
Sold out
Share
View full details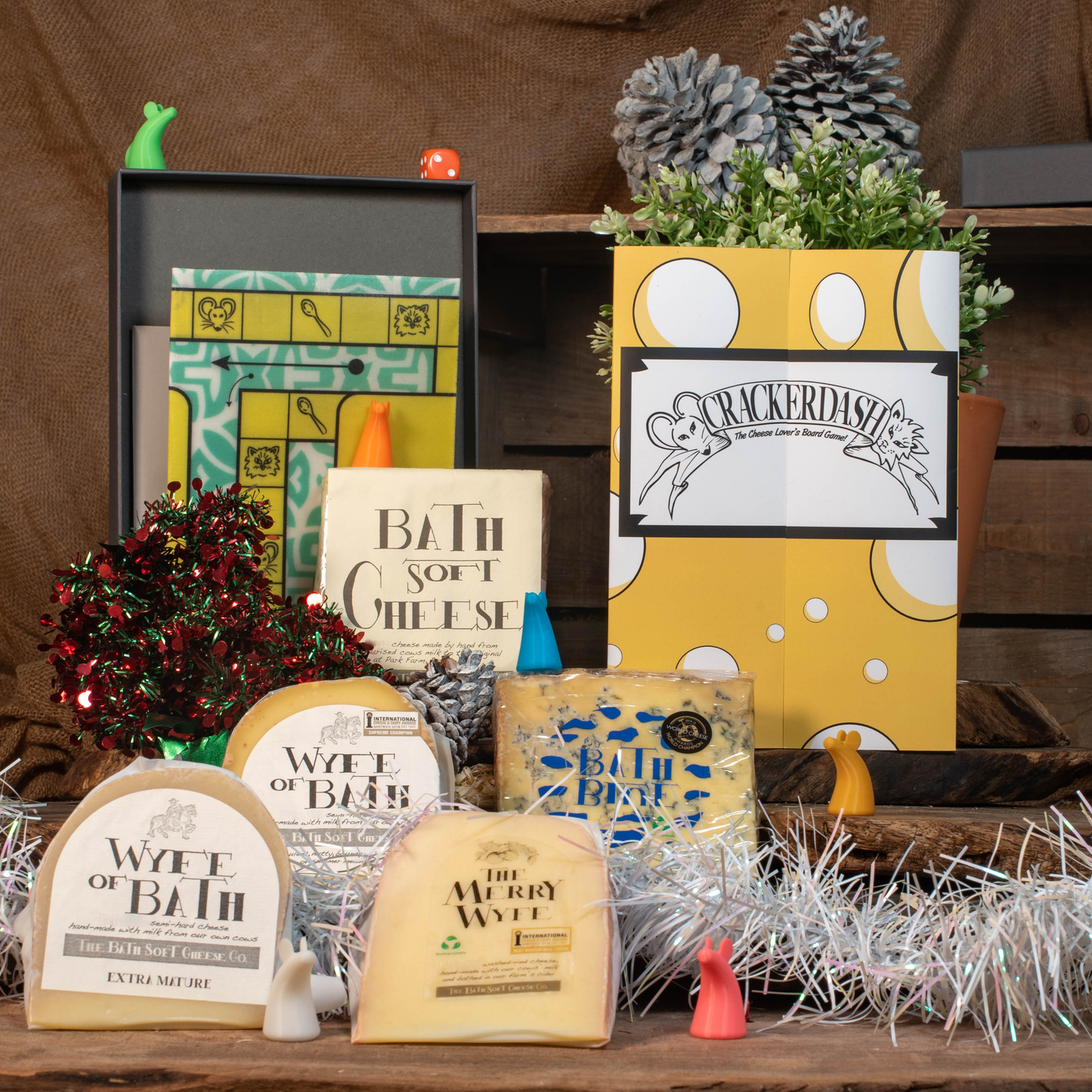 I bought the Crackerdash bundle for my husband as an anniversary gift. Great cheese and a really fun game for all cheese lovers! However, you play it, there's always an opportunity to eat more cheese! I would heartily recommend both the game and cheese.